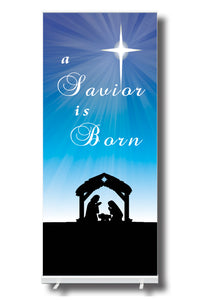 Christmas Pull Up Banner 2 - A Saviour is Born
The A Saviour is Born Banner shows the Nativity Scene in silhoutte, the Star of Bethlehem shines brightly in the night sky overhead. It is a peaceful and prayerful scene.

Colour Palette: cool, blue
Theme: peaceful, prayerful
Pull up banners are a quick and easy way to update the look and feel of your space. Our Christmas banners are ideal for placing to the side of an altar or just inside the church porch or in the corner of a parish hall or office. Easy to assemble and easy to pack away and store. These banners are designed for years of trouble-free use.